WHERE, WHEN AND WHAT TIME:
Zoom Lecture - Tuesday, February 22, 2022
Networking - 6:30 - 7:00 p.m.
Lecture: 7:00 p.m. - 8: 30 p.m.
Price: $25 per person (includes 2 hours of CE credit)
ONLINE REGISTRATION ONLY
---
ABOUT THE TOPIC:
Highchair Dental Care: A Revolutionary Practice Model for Infants and Toddlers. This is an age-appropriate oral health care model that identifies the opportunity to promote healthy behaviors at the point of care.

Highchair Dental Care provides an optimistic and insightful approach to infant and family oral health care. It teaches dental professionals an alternative way to treat children beginning as early as 8 months of age, while at the same time providing educational content to parents and caregivers. This environment creates a welcoming opportunity to discuss not only the child's health, but that of the immediate and extended family. Oral health practices and diet behaviors of the family and caregiver can be discussed too. The highchair provides the safety and security needed to conduct the proper infant oral exam. It also affords the infant their first examination in an atmosphere familiar to them, which a traditional dental chair cannot.

Strategies that engage a child's natural inclination to open their mouth, to laugh or to eat is a part of the course instruction. By placing the baby in a highchair, they are comfortable and usually willing to open-wide for their first oral examination, dental cleaning and fluoride application should one be indicated during this visit. This practice model is a child-friendly approach to patient care that works well with most infants.

The Highchair Dental Care Practice Model introduces an optional care standard to address infant oral health. It helps to draw attention to the importance of innovation and early interventions to prevent Early Childhood Caries and other potential unfavorable sequelae..
---
ABOUT THE SPEAKER

:
Winifred Booker, DDS, ABPD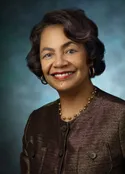 Earned a BS degree in Biology from Tennessee State University in 1980
Earned a DDS degree from Meharry Medical College School of Dentistry in 1987
Earned the Certificate in Pediatric Dentistry from the Children's National Medical Center in Washington, DC in 1994
Board Certificated Pediatric Dentist
Private practice since 1988, and principal owner of Valley Dental Pediatrics
Founder of The Children's Oral Health Institute in 1997, a nonprofit organization dedicated to the oral health education of children and families
Owner of Brushtime Enterprises an oral hygiene products company opened in the 1990
Has held several leadership positions in organized dentistry and is currently the President-Elect of the Maryland State Dental Association (MSDA)
.