FOR SALE OR RENT:
---
---
COVID 19 PPE PRODUCTS: A Baltimore-based small business that has served the community for more than 50 years, Crown Shade Company is pivoting operations to support those on the front lines in the fight against COVID-19.



WEBSITE - crownshadeco.com/covid19

CROWN SHIELD - The intended use of a Crown Shield is a visor that protects against splashes, sprays, and spatter of body fluids. It is constructed with flexible polyvinyl chloride (PVC), foam padding around circumference and adjustable nylon cordage with plastic pinch lock orb fastener. It is a disposable one-piece face and neck shield visor and should be used in conjunction with other protective equipment like eye-wear and face mask.
Specifications - Polyvinyl Chloride Clear Lens / Polyurethane Foam Cushion / Rear drawstring provides quick adjustment for proper fit
Production Time - We will ship within 2/3 business days all orders under a quantity of 100.

CROWN GOWNS - Lightweight 1.5 mil polyethylene gowns for use in medical facility keeps clothing dry. Thumb loops help keep sleeves from riding up over gloves. Gowns provide a high-level of fluid protection.


FACE MASKS - Crown has partnered with Glenmar Draperies, an incredible local drapery work room, to bring you a limited amount of face masks. Like our other PPE products all of the proceeds go towards keeping our employees employed.

MORE INFORMATION / TO ORDER PPE PRODUCTS - http://www.crownshadeco.com/covid19

---
CUSTOM ACRYLIC BARRIERS - Shore Plastics has custom acrylic barriers to help businesses, dental and medical offices, supermarkets, restaurants and all public business respond to the Coronavirus (COVID-19) Pandemic. They are ready to produce protective barriers to ensure that staff return to work safely and help keep everyone healthy! These custom acrylic barriers can be used for: * Ensuring social distancing guidelines are met, * Protecting your staff from patients, * Dental Protection, * Reception Desk Barriers, * Anything you need!

Shore Plastics has two quick-ship options that are self-standing with no installation needed available but can customize to fit for your needs and your business needs. They can accommodate small (1-2 item) jobs and nationwide large orders!

Quick Ship Options - 1) 31.5″ H x 24″W x 12″D – $100 + S&H or 2) 31.5″ H x 45″W x 12″D – $150 + S&H

MORE INFORMATION / TO ORDER - https://www.shoreplastic.com/portfolio/sneezeguards-barriers/ or Email Larry at [email protected] .

---
DENTAL OFFICE FOR LEASE: 660 Kenilworth Drive, two story office building located at the corner of Kenilworth Drive and West Road. Excellent access to I-695, I-83, Timonium and downtown. Attentive on-site ownership and management. Secure evening and weekend entry system. Ample free parking. 1,576 square foot second floor dental office. 4 operatories with dental chairs and equipment already on-site including panorex system. Lease rate includes full utility service and janitorial service. Please contact: David V. Miller at 410-321-9558 or [email protected]
---
SINGLE DENTIST OR GROUP DENTAL OFFICE FOR RENT: Up to 5 operatories (older equipment), all plumbed for existing central oxygen and nitrous oxide. Waiting room, business office, two bathrooms, lab plus storage area and x-ray room. Handicap access. $1,287 per month rent with use of existing equipment. Great location at 8424 Old Harford Road in Parkville. Convenient to I-695, I-95, White Marsh and Towson. Please call 410-692-2217.
---
FREE TO A GOOD HOME: Blue 1950's dental cabinet. 11 drawers. 51" H x 30" W x 16" D. Needs restoration. Please call 410-833-4430.

WANTED: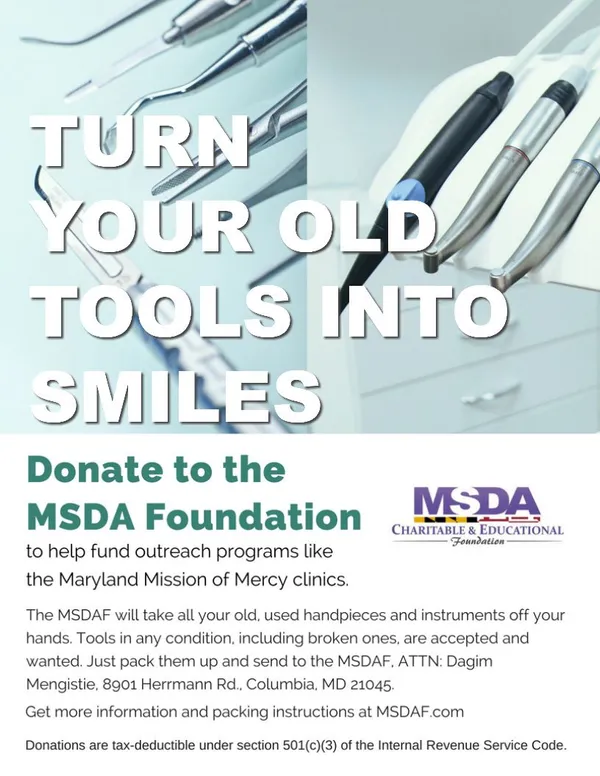 This site is for Baltimore County Dental Association Members only. Please use the BCDA contact form below to submit your buy/sell ad for dental-related items. Once membership status is verified, ads will be posted at either the beginning or middle of each month (whichever comes first) and will remain online for one (1) month. If you buy or sell your item in less than 30 days, please notify BCDA.
---